services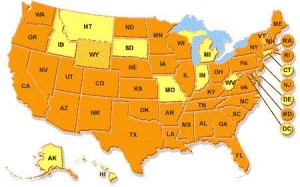 New Order Environmental Services maintains a service provider radioactive material license in the state of New Mexico, with pending license applications in several states. New Order's s radioactive material license is honored in all 33 agreement states as well as by all NRC states under reciprocity agreements, allowing New Order to operate and manage sites for clients nationwide.
The experiences within the industry of key personnel alongside that of the field staff and support personnel, are the foundation for the ethics, knowledge base and diligence of New Order policy. Our combined areas of expertise are integrated in refined systems to help clients successfully remediate, redevelop, revitalize and reclaim contaminated and or impacted industrial and defense sites throughout the nation. Our environmental solutions provide a balance of regulatory compliance, engineering innovations, and economic feasibility to develop safe, successful solutions for contaminated sites. We provide the multifaceted services required to transform impaired sites into positive resources.
At New Order we strive to provide the highest level of service in every phase of activity from project design to field implementation. New Order can design and tailor services for our clients in support of the following;
• Geospatially Referenced Radiation Surveys – GPS Gamma Surveys
• Global Information System (GIS) Mapping
• Ground Penetrating Radar (GPR) and GIS Mapping
• Groundwater Monitoring and Treatment Services
• Decontamination and Decommissioning
• Drone UAV Surveys and Inspection Services
• In-situ Analysis and Isotope Identification
• Equipment and Instrument Rental
• Radiological Remediation and Reclamation Support
• Environmental Site Restoration
• Personnel Dosimetry Services
• Radiological and Chemical Air monitoring and Atmospheric Testing
• Environmental Assessment and Surveillance Programs
• Site Assessment and Verification
• Final Status Verification
• Radiological Protection Program Development
• Field Sampling and Analysis
• Radiological Support for Unexploded Ordinance/Material of Explosive Concern (UXO/MEC) Sites
These services and products are among many provided to support radiation safety programs in energy production, biotechnology research and development, hospitals, universities, waste management, portable and fixed device users, manufacturing, and all other industries involved in the use of radioactive materials.
To hear more about our services and products please Contact us at 1(888)522-7132 or visit our Contact us page for more options.